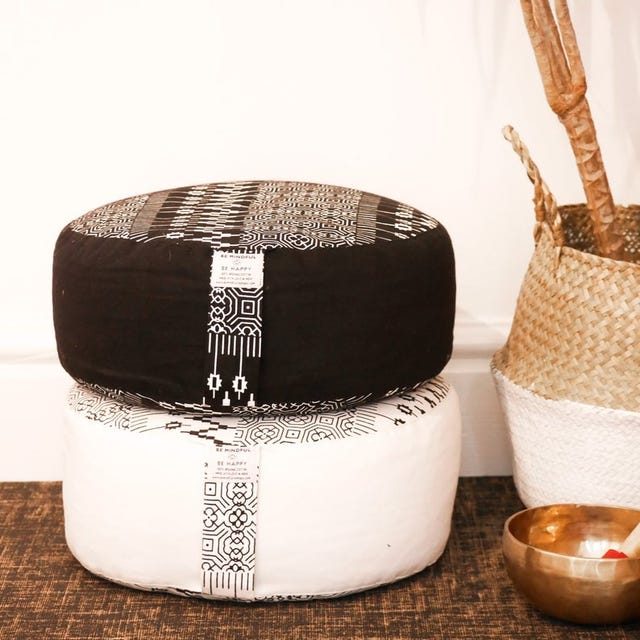 Be Mindful Be Happy
We all know the benefits of meditation – it can help reduce stress, lower anxiety levels and just generally help you take some time for yourself away from your housemates, partner or family (who we've all seen A LOT more of this past year). Naturally, this is all pretty important stuff, but longer sessions can get uncomfy. You might get a sore back, legs or bum which, honestly, is going to ruin your vibe.
Luckily, there's an easy solution: use a meditation cushion. These will give you a more supportive, comfortable place to perch while you're meditating, so you can go for longer without getting distracted or feeling that you have to stretch. Some, like bolsters, can be used to improve your yoga game too, helping support you in certain positions so you can nail them properly. An extra bonus? They can be used as additional seating for guests in the future, too.
We've found plenty of floor/meditation cushions of all different shapes and sizes, so you're bound to find something that you like – and will go with the soothing space you've carved out for your practice. Good vibes all round.
Advertisement – Continue Reading Below
1
Best meditation cushions
Organic Buckwheat Meditation Cushion
BarefootcreationsUK
etsy.com
£29.99
If you're into sustainability (as we all should be) this is a good bet. It's made from organic buckwheat, which grows very quickly in poor soil conditions without the need for pesticides and herbicides. Plus, the hummingbird design is super cute.
2
Best meditation cushions
Mandala floor cushion
theshantihome
etsy.com
£43.99
This is just the cover, so you'll have to source the inner separately, but we wanted to include it anyway as it's beaut. Handmade by Indian artisans from old saris, it ships over from India so there's a slight wait. Saying that, shipping is actually free (hooray) and you know you're getting something properly authentic, so we think it's def worth it. 
3
Best meditation cushions
Parker Floor Cushion
This is a floor cushion, rather than a cushion specifically for meditation per se, but it does the job all the same. It's roomy, comfy and the handle makes it easy to move out of the way when you're not using it. 
4
Best meditation cushions
Jute Floor Cushion
John Lewis
johnlewis.com
£65.00
Here's another floor cushion with a useful handle and a cool, natural vibe thanks to the jute material. 
5
Best meditation cushions
Loa Quilted Floor Cushion
This is a smart looking one – we love the quilting on the top and it comes in this cute dusky pink or a smart seafoam blue shade, depending on your decor. 
6
Best meditation cushions
Lux Velvet floor cushion
This one is simple, but the velvet fabric makes it uber sophisticated. It comes in loads of colours, but our pick is this rich, vibrant burnt orange one that'll add some (very in vogue) 70s vibes to your living room. 
7
Best meditation cushions
Galicia Giant Woven Floor Cushion
Perch & Parrow
perchandparrow.com
£75.00
If you're lucky enough to have a bigger space, this is a good shout. It's 75cm square, so it's big enough to meditate on, or for just chilling on the floor with a book. Alternatively, a couple of guests could squeeze onto them (when we're actually allowed them, obv). 
8
Best meditation cushions
Cotton Plain Mauve Cushion Cover
Homescapes
homescapesonline.com
£14.99
Bargain hunters, this one's for you – it's a steal at just under £15. There's 15 colours to choose from too. We're investing in several.
9
Best meditation cushions
Burnt Pink Rectangle Cushion
satidesignuk
etsy.com
£52.00
If you prefer a minimal vibe at home, this one is a good option. The muted pink tone is soothing, but not boring.  
10
Best meditation cushions
Organic Meditation Zafu Cushion
BeMindfulBeHappy
etsy.com
£35.00
This one's really vibrant, even in black and white. It'll make a proper feature in your living space. 
11
Best meditation cushions
Large Meditation Cushion
RuthHendryStudioShop
etsy.com
£110.00
Something a little more unusual now; this handmade felted meditation cushion is shaped like a pebble. Each one is different (as are both sides) so you know you're getting something unique.  
12
Best meditation cushions
Meditation Cushion
The team at Yogipod have thought about everything when it comes to helping you with your meditation practice – this one's subtly curved to fit the contours of your body while you're sat. 
13
Best meditation cushions
Pink leopard print floor cushion
RichInColourHome
etsy.com
£20.00
Well, we all know that animal print is a neutral, so we think this pink leopard floor cushion should fit in comfortably in any decor scheme. Yup. 
14
Best meditation cushions
Personalised Yoga Cushion
A Few Home Truths
etsy.com
£26.00
Personalised things are always fun – and this goes a little further than simply adding your name. You can customise the hair colour and style, skin tone, add glasses and the name, obv. A great gift for a yoga-loving pal! 
15
Best meditation cushions
Yoga bolster cushion
MagicPumpkinCompany
etsy.com
£24.70
When you're not improving your backbend pose with the help of this yoga bolster, you can keep it on your bed, where it'll look great. Win win!
16
Best meditation cushions
Luxury Meditation Pillow
DuvetCoverLove
etsy.com
£46.90
Another one that definitely won't look out of place on your bed when you're not using it. And how glam is this deep purple shade? We love it. 
17
Best meditation cushions
Square Floor Cushion
This one is really huge (nearly a metre square, to be exact) so it's a good choice if you've got a larger living area. Super comfy though, we're up for snuggling up for lockdown film nights on this, for sure.  
This content is created and maintained by a third party, and imported onto this page to help users provide their email addresses. You may be able to find more information about this and similar content at piano.io
Advertisement – Continue Reading Below